Atomlab 960 Thyroid Uptake System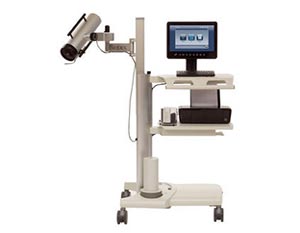 A complete, mobile, self-contained Medical Spectrometer System
The Atomlab 960 Thyroid Uptake System is an advanced multi-purpose spectrum analysis instrument designed for diverse nuclear medicine applications. Uptake studies, wipe tests, and other user-defined tasks are accomplished with speed and precision using this fully integrated computer-controlled instrument and its comprehensive selection of application software.
The system's multi-channel analyzer has 1024 channels, with individual MCAs for the probe and optional well counter. Engineered for mobility, durability and operational efficiency, the Atomlab 960 handles clinical tests, safety compliance tasks, and system administration procedures quickly and accurately. Intuitive menus follow conventionally established nuclear medicine procedures, providing step-by-step guidance throughout all defined procedures. The system automatically performs calculations, stores patient information and test results, and outputs clear, concise reports. User-defined uptake protocols can be initiated.
The self-contained Atomlab 960 system is configured on a compact mobile platform with locking casters and a base that measures only 26″ w by 34″ l (66 x 86.4 cm).  An upper shelf supports the flat panel PC with touch-screen display and keyboard.  The stand provides convenient storage positions for Neck Phantom, Calibration/Constancy Fixture, and optional well counter. A 2″ x 2″ NaI(Tl) detector with collimator shield articulates on a ­multi-axis and height adjustable counterbalanced arm. The 24.5″ (62.2 cm) of vertical travel allows the probe to be positioned from 30.5 to 55″ (77.5 to 139.7 cm) in the horizontal position from the floor to accommodate seated or supine patients. The probe swings more than 180° on the horizontal plane, and extends outward, up to approximately 31″ (78.7cm) horizontally from the support column. This design makes positioning for uptake studies simple and comfortable for both patient and technologist. The combination of positioning LED and distance measurement rod assures accurate, repeatable patient positioning and uptake measurements.
Unique Positioning LED for accurate thyroid centering – A First in Thyroid Uptake System Design
Distance measurement rod with incremental markings (detector-to-patient)
The combination of positioning LED and distance bar assure accurate, repeatable patient positioning and uptake measurements
All-in-one flat panel PC with solid state hard drive featuring Windows® Operating System
Count rate: 150,000 cps
Color touch-screen adjustable height monitor – medical grade tactile touch
Extremely intuitive menus follow conventionally established nuclear medicine procedures
Compact mobile platform requires little floor space – easy to move
Innovative multi-axis and height adjustable arm for easy patient positioning of seated or supine patients
Calibration/Constancy fixture for simple and automated calibration
Convenient storage locations for Neck Phantom and Calibration/Constancy Fixture
1024-channel multi-channel analyzer
Software programs for Thyroid Uptake, Wipe Test, Quality Assurance, Manual MCA and Bioassay
Controlled and monitored via Ethernet or Serial Port
DICOM Interface (optional)
2″ x 2″ NaI(Tl) detector with collimated shield (meets IAEA specifications)
Heavy duty locking casters
Smart cable management
Industry exclusive two-year warranty
Medical Spectrometer Hardware
Computer
6″ Color, Touch-Screen Flat Panel PC, Windows® 7, 1.66 GHz Atom Processor, 1 GB RAM, 32 GB SSD, HP Printer, Wifi, Ethernet and Speakers.

Multi-Channel Analyzer
Channels: 1024
Spectral Resolution: FWHM 8%
Count Rate: (Maximum) 150,000 cps for Tc-99m
Count Rate Stability: 99%
Gross Count Rate Linearity: Within 5% up to 150,000 cps
Pulse Height Linearity: Within 2% (independent of detector)
Detector High Voltage Adjustment: Automatic adjustment for both probe and well; uses 10 µCi Cs-137 as the calibration source.
Medical Spectrometer Software
Radionuclides
Factory Programmed: Au-198, Ba-133, Ba-133 (well), Co-57, Co-57 (w), Co-58 (w), Co-60, Cr-51, Cs-137, Fe-59, F-18, Ga-67, Hg 197, I-123, I-125, I-131, In-111, Ir-192, K-42, Lu-177, Na-24, Pd-103, Ra-223, Se-75, Sr-85, Tc-99m, Tc-99m (w), Tc-99m/Tl-201, Tl-201, Yb-169, wide window.
User Set: Unlimited user defined isotopes, setting ROI, half life, name, efficiency and range.
Other Hardware
Probe
2″ x 2″ Nal (Tl) integral line scintillation detector
Uptake Stand
Dimensions:
– Arm down and retracted: 34″ l x 26″ w x 55″ h (86.4 x 66 x 139.7 cm)
– Maximum Height: 60″ (152.4 cm)
– Maximum Length: Arm Extended: 61″ (154.9 cm)
Collimated Shield: Flat field collimator meeting IAEA specifications
Positioning: Distance bar and positioning light
Arm: Counterbalanced, two section arm, moves 24.5″ (62.2 cm) vertically and extends 31″ (78.7 cm) horizontally from stand's vertical column.
Casters: 4″ Total locking
Weight: 280 lb (127 kg)
Combined weight with Well Counter: 330 lb (150 kg)
Power: Low voltage transformer with hospital grade power cord and plug.
Line Voltage:
– 120 VAC, 60 Hz, 2 AMP circuit breaker
– 230 VAC, 50 Hz, 1 AMP circuit breaker

Optional
187-602 Well Counter
Detector: 2″ x 2″ Nal (Tl) integral line scintillation detector with a .75″ diameter x 1.44″ deep well (1.9 x 3.7 cm)
Lead Shielding: 1″ thick (2.5 cm)
Cover: .125″ thick (.32 cm)
Weight: 50 lb (22.7 kg)
187-603 Lead Shield, Well Counter
Detector: 2″ x 2″ Nal (Tl)
Lead Shielding: 1″ thick (5 cm)
Weight: 69 lb (31.4 kg)
Certification: ETL Listed to UL 60601-1 Std. and to CAN/CSA C22.2 No. 601.1.M90, 2nd and 3rd editions, and CE marked
Warranty: Two-years parts and labor
187-600 Thyroid Uptake System,
Atomlab 960, 120 VAC, Mobile, PCMobile System includes:
• All-in-one flat panel PC with solid state hard drive
featuring Windows® embedded standard 7, Atomlab 960
PC software, printer and 1024 channel
multichannel analyzer
• 2″ x 2″ tube assembly and base
• Mobile support stand with collimator
187-601 Thyroid Uptake System,
Atomlab 960, 230 VAC, Mobile, PC
Mobile System includes:
• All-in-one flat panel PC with solid state hard drive
featuring Windows® embedded standard 7, Atomlab 960
PC software, printer and 1024 channel
multichannel analyzer
• 2″ x 2″ tube assembly and base
• Mobile support stand with collimator
187-146 Software, Atomlab 960 DICOM
187-602 Well Counter, 1″" lead (2.5 cm)
Includes cover.
187-603 Lead Shield, Well Counter, 1″" lead (2.5 cm)
063-139 Rod Source, Cs-137, Calibrated, 0.1 ™Ci
101-103 Check Source, Cs-137, 10 ™Ci*
Uncalibrated, 1″" dia x .25″" thick
(2.5 x .64 cm)
043-365 Thyroid Uptake Neck Phantom
(Complete with bottle carrier, capsule holder and 12 polyethylene bottles)