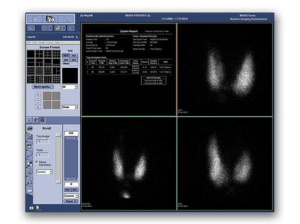 Optional – compliant to DICOM requirements.
Streamlines workflow and improves staff productivity
Thyroid scans and uptake reports may be  displayed simultaneously
Completely integrated for seamless operation
Government approved to interface with VistA imaging
The optional DICOM Interface integrates the Atomlab 960 Thyroid Uptake System with your hospital management system, streamlining workflows and improving communication. Upon installation, the program is completely integrated with the uptake software for seamless operation. The program allows you to retrieve patient information from the worklist and upload patient results, without exiting out the clinical software, increasing staff productivity and efficiency. DICOM allows the uptake reports to be transferred, stored and queried/retrieved throughout a facility. Physicians can view both thyroid scans and uptake reports simultaneously.