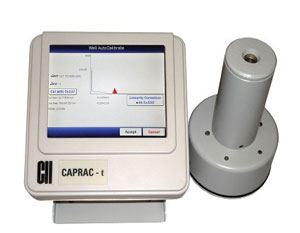 The compact CAPRAC-t
®
. It performs a wipe test in just 6 seconds (for 1 nCi) and detects extremely low levels of activity with the accuracy only a NaI drilled-well detector can provide.
The CAPRAC-t® can also serve as a single-well gamma counter in departments that do not need multi-sample changers. User-defined protocols, trigger levels, and counting times are a "snap". A 256-channel pulse-height analyzer permits built-in gamma spectroscopy. Definable conversion factors for specific radionuclides allow the CAPRAC-t® to calculate results in cpm, dpm, nCi, cps, dps, or kBq. The CAPRAC-t also displays photon-energy histograms.
The CAPRAC-t® is engineered and built for years of consistent, reliable performance and is Curie or Becquerel selectable. The unit has automatic background subtraction and self-diagnosis programs for systems testing with optimized signal-to-noise ratio. It includes a lead outer shield (1.3 cm thick) with optional auxiliary shield available.
8" SVGA touch screen color display
256 channel MCA with detailed spectrum for identification analysis
NaI drilled-well crystal detector
Automatic Energy Calibration, Constancy Check, and Background Subtraction
Automated well QC including chi-square and MDA
Manual and Automatic ROI
Sets user definable protocols for wipes
Print outs of all data for permanent records with the optional printer
Direct readouts with spectrum display are in cpm, dpm, Curies and Bequerels
Meets all state and NRC wipe test requirements
USB and RS232 communication ports for PC and printer
Compatible with nuclear medicine information management systems via USB
Lab tests include Schilling, Plasma and RBC volume
Built-in database for test and wipe results as well as QC
Performance:Type: 1.5" Sodium Iodine (NaI) drilled-well crystal; 256 Channel MCA manual and automatic ROI; Trigger Levels: User definable; Automated Calibration and Background Subtraction; QC Tests: Reproducibility, Chi-Square, MDA; Counting Rate: 10,000 cps
Display Screen:Type: 8" VGA-LCD color touch screen; Bq/Ci Reading: User selectable; Activity Display: Selected radionuclide, efficiency, measured activity, and display units; Count Rate Values for both wipe and lab results
Printer:RS-232 or USB Ports for compatible non-host based printers
PC Port:Interface: RS-232 and USB
Power Requirement:100-240 VAC (50/60 Hz) 25W
Test:Diagnostic: Full test of program and system memories
Cable:Printer (Optional): 6′ (1.8m); Power: 6′ (1.8m)
CONSOLE MEASUREMENTS
Dimensions:5″ h x 9.0″ w x 10.5″ l (42 x 23 x 22 cm)
Weight: 5 lbs. (.4kg)
WELL COUNTER MEASUREMENTS
Well Counter Dimensions:28″ h x 6″ d (23.8 x 15.2 cm)
Weight: 2 lbs. (6.9 kg)
Crystal Dimensions:5″ x 1.75″ (3.8 x 4.4 cm)
Shielding:.5″ (1.3 cm) lead
Well Diameter: .67″ (1.7 cm)
Well Depth: 5″ (3.8 cm)
Cable Length: 9′ (2.7 m)
5430-3136 CAPRAC-t Wipe Test/Well Counter
5130-2224 CRC™ Interactive Remote Display
5430-0058 Epson Roll Printer
5430-0100 Epson Ticket Printer
77120-1199 CRP-200 Dose Tickets & Labels
7300-2450 Environmental Shield
5420-2072 Well Detector Auxilary Shield
7300-2004 Liner
7300-2005 Dipper