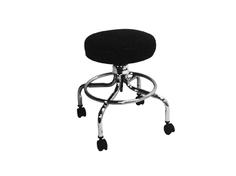 Preferential seating
This Adjustable Height Stool is made of a 1″ diameter chrome plated steel. For versatility within the department, the stool features precision machined screw height adjustment from 19″ to 27″.
The cushioned 15″ diameter seat is a plush 4″ thick poly-foam for maximum comfort. The vinyl upholstery is extremely durable and easy to maintain. Beneath the seat is a protective ABS plastic shroud for asepsis.
The 4-legged stool sits atop a 19.5″ diameter base with casters or rubber "tips" for added stability. Foot ring is standard.
Dimensions: 19.5″ dia x 27″ h (48 x 69 cm
– Height Adjustable: 19″ to 27″ (48 to 69 cm)
– Seat Dimensions: 15″ dia (38 cm)
Construction: Chrome plated steel
Weigh: 18 lb (8.3 kg)
214-130 Stool, Adjustable Height with Casters
214-132 Stool, Adjustable Height with Rubber Tips