Laboratory Casework and Countertops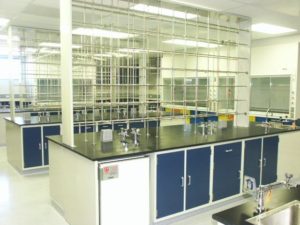 Painted Metal Casework
LAB DESIGN produces nearly 450 different models of Base, Wall and Freestanding unit casework. The base unit product line is available in six different widths and three heights; Stand up, Sit down and ADA. Four different widths are available in our Wall mounted line and up to five different widths in our Freestanding line. The drawer and door configuration available in LAB DESIGN'S Base unit product line is extensive and will meet nearly every possible layout.
Stainless Steel Casework
We also offer a full range of stainless steel laboratory cabinetry customized to your specifications. Stainless steel is ideal for the laboratory as it is non-porous, easy to clean/decontaminate and extremely durable.
Countertops
We can supply a wide range of countertops from Epoxy Resin, Phenolic Resin, Stainless Steel and Lab-Grade Plastic Laminate. Solid surface and granite countertops are also available.  A unified countertop may be ordered to provide a continuous work surface across multiple grouped base cabinets.
Adjustable Tables
Mobile lab benches are becoming increasingly more popular in lab space. Along with stationary tables, we can help you construct a mobile or stationary table with accessories that will fulfill your needs.
We provide many options on sinks, peg boards, electrical fixtures, faucets, gas/vacuum turrets and safety stations.
American cold rolled prime furniture stock steel
All welded, heavy duty UNIBODY construction
Self closing drawer slides warranted for life
Removable drawer slide roller bearings for ease of cleaning
100% corrosive resistant ALUMINUM drawer and door pulls
3 tank full unit submersion wash system ensures the proper readiness for finish application
Electrostatically applied, oven cured, epoxy based paint finish as shown in SEFA specifications
16 standard color finishes and the availability of custom finishes at a small upcharge
Removable Base unit backs for plumbing fixture installation
Optional drawer and door LOCK installation
PRODUCT AVAILABILITY IN 2 TO 5 WEEKS