Ventilated Compounding Enclosure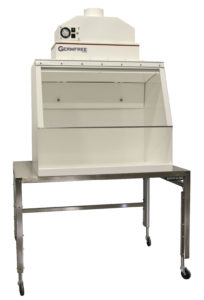 A high quality solution for pharmacy compounding
The Ventilated Containment Enclosure (VCE-800) is a Class I Biological Safety Cabinet, providing a work area for the safe handling of dust, powders and particulates associated with compounding. The blower provides between 50-70cfm of inward airflow directing particulate toward the HEPA filter at the top of the unit. All exhausted air is HEPA filtered removing particulate at an efficiency of 99.99% for particulate 0.3 microns in size and returned to the room.
Overall Dimensions: 36″W x 23″.188″ D x 46.25″ H
Outer cabinet is constructed from powder steel framed acrylic.
Work surface is all powder coated steel.
High capacity motor blower system with speed control to extend HEPA filter life.
Front viewing panel is top hinged and self supporting for easy access to the work area for cleaing equipment ingress.
Prefilters can be easily changed and bagged for containment from inside the work area.
Separate lighted power ON/OFF indicator switches for blower and lighting.
Fluorescent lights are externally mounted to minimize heat build-up.
Ten foot power cord with molded grounded plug.
Designed for independent certification.
VCE-800-3 3′ Ventilated Compounding Enclosure – Powder Coated Steel 36″W x 23.188″D x 46.25″H
Related Items:
VCE-A2 Duplex electrical outlet in work area
VCE-A8b 3″ Stainless Steel
SBC Stainless Steel Bin Cart 30″W x 26.5″D x 29″H
BINS Plastic Bins 14″ x 6″ x 6″