Clear-Lead Mobile X-Ray Barriers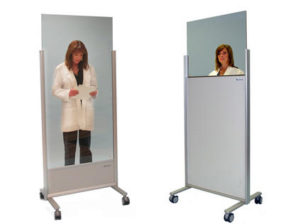 Save Time – new sleek design is easy to clean!
Clear-Lead™ acrylic mobile x-ray barriers are designed for use around any imaging procedures using ionizing radiation, e.g., fluoroscopy, x-ray, CT, mammography.
The greatest advantage of these barriers over others on the market is the time they save behind the scenes. Their sleek design exposes no hardware, nooks or crannies while the opaque section of the shield is covered with plastic laminate – the result, a smooth, easy-to-clean finish.
Grab-handle edges and large casters make them effortless to maneuver. Clear-Lead™ Mobile Barriers offer large, durable and shatter resistant protection wherever it's needed.
Meets all infection control criteria
Sleek design is easy to clean
Durable and shatter resistant protection
Effortless maneuverability
0.5 mm lead equivalency window
0.8 mm lead opaque panel
Superior stability
042-580 Clear-Lead Mobile Barrier, Standard Window
Dimensions:
Overall Dimensions: 30″ w x 75″ h (76 x 191 cm)
– Window: 30″ w x 24″ h (76 x 61 cm)
– Opaque Panel: 30″ w x 48″ h (76 x 122 cm)
– Shielded Area: 30″ w x 72″ h (76 x 183 cm)
Shielding:
– Window: 0.5 mm lead equivalency
– Opaque Panel: 0.8 mm lead
Leg Depth: 10.5″ (26.7 cm)
Casters: Four hospital grade; two locking, two non-locking
Weight:102 lb (46.5 kg)
Warranty: One year parts and labor
042-582 Clear-Lead Mobile Barrier, Full Window
Dimensions:
– Overall Dimensions: 30″ w x 75″ h (76 x 191 cm)
– Window: 30″ w x 54.5″ h (76 x 138.4 cm)
– Opaque Panel: 30″ w x 17.5″ h (76 x 44.5 cm)
– Shielding Area: 30″ w x 72″ h (76 x 183 cm)
Shielding:
– Window: 0.5 mm lead equivalency
– Opaque Panel: 0.8 mm lead
Leg Depth: 10.5″ (26.7 cm)
Casters: Four hospital grade; two locking, two non-locking
Weight: 98 lb (44.5 kg)
Warranty: One year parts and labor
042-580 Barrier, Mobile, Clear-Lead, Standard Window
For ionizing radiation, 0.5 mm LE
Window size 30″ w x 24″ h (76 x 61 cm)
042-582 Barrier, Mobile, Clear-Lead, Full Window
For ionizing radiation, 0.5 mm LE
Window size 30″ w x 54.5″ h (76 x 138.4 cm)