Fixed Height Surgical C-Arm Table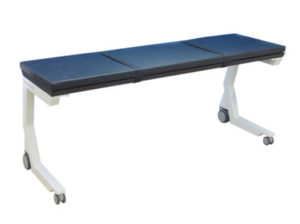 Designed for unrestricted head-to-toe C-Arm positioning during image-guided procedures, this unit offers structural stability and manufacturing quality at an affordable price. The extra-large 80″ x 24″ carbon fiber tabletop has no cross members between the two C-shaped supports at each end of the table. This open side-cantilever design provides unobstructed end-to-end C-Arm placement for full head-to-toe fluoroscopic visualization of any size patient.
Two-inch thick table padding assures patient comfort during lengthy procedures. Adjustable straps with hook and loop fastening are provided for increased patient stability. Twin-wheel locking casters provide smooth transport and secure table positioning.
Quality built, affordably priced
Extra-large low-attenuation carbon fiber tabletop
Unrestricted end-to-end C-Arm positioning
Four twin-wheel locking casters
Dimensions: 82″ l x 29.5″ w x 35″ h (209 x 75 x 89 cm)
– Tabletop: 80″ l x 24″ w (203 x 61 cm)
– Radiolucent Area: 75″ l x 24″ w ( 191 x 61 cm)
Tabletop Material: Carbon fiber
Mattress: 2″ thick (5 cm)
Attenuation:
– Tabletop: 1 mm Aluminum equivalence
– Mattress: .5 mm Aluminum equivalence
Wheels:
– Front – 5″ (12.7 cm) locking twin-wheel casters
– Rear – 3″ (7.62 cm) locking twin-wheel casters
Patient Restraints: two body strapsFinish: Powder coat
Patient Capacity: 500 lb (227 kg); weight tested to four times the patient load rating.
Weight: 125 lb (57 kg)
Warranty: Two years parts and labor
056-025 Table, Surgical C-Arm, Fixed Height
Optional:
056-865 Arm Board, Carbon Fiber, one arm
056-866 Arm Board, Carbon Fiber, two arms
Fits Surgical C-Arm Tables 840, 846 and 870 Pain Management Table
058-864 Arm Board, Surgical, Carbon Fiber
058-849 Clamp, Accessory, C-Arm Table
058-857 Radiation Shield, Thoracic/AB
Fits Surgical C-Arm Tables 840, 846, 870 and 056-025 Fixed Height Table
058-849 Clamp, Accessory, C-Arm Table