SuperWand Hand-Held Metal Detector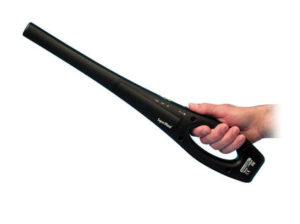 The SuperWand Hand-Held Metal Detector's exclusive 360° Plus detection field provides uniform sensitivity 360° along the scan area and pinpointing at the tip to detect metal objects with extreme accuracy. The unit provides optimum sensitivity with automatic retuning, requiring no adjustment.
Alarm signals are selected by the user – audible sound or silent vibration with LED display. The three-color LED lights provide instant operating-mode information.
The SuperWand's ergonomic grip and sleek dimensions make handling comfortable and less tiring. The unit operates on either a 9V battery or an optional rechargeable battery, sold separately.
Identifies ferrous and non-ferrous metallic items in the MRI suite
Slender design provides 360° Plus detection coverage including tip pinpointing
Easy to use with one-touch button and three-color LED display
Immediate audio or visual/vibration alarm signals
Dimensions: 19″ l x 3.25″ w x 1.25″ thick (48.3 x 8.3 x 3.2 cm)
Frequency:
Operating: 95 kHz
Audio: 2 kHz
LED Display:
Red Light Ð Alarm
Green Light Ð Power On
Amber Light Ð Low Battery Warning
Alarm Signals:
Audible – Tone with Red LED
Silent – Vibrator with Red LED
Compatibility: ETSI 301 489-3, I-ETS 300 #330
FCC part 15 Class B
Power: Standard 9V battery, included. (Rechargeable battery sold separately)
Weight: 18.6 oz (0.45 kg)
240-883 Metal Detector, SuperWand
240-884 Battery, Rechargeable and Charger For 240-883