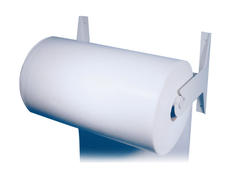 Protect any work surface with plastic lined Absorbent Paper. Spills and splashes are immediately contained without messy clean up. Available in pre-cut sheets or by the roll, Absorbent Paper is efficient for any work surface.
Together with the optional paper dispenser, the 300-foot Absorbent Paper Roll can be conveniently located to any wall or bench. It works like a common paper towel dispenser, yet is extra-strong to support the oversized 11 lb roll.
033-304 Absorbent Paper Rolls
Dimensions: 300′ l x 20″ w (91.5 m x 51 cm)
Shipping Weight: 26 lb (11.8 kg)
033-013 Absorbent Paper Sheets
Dimensions: 17″ l x 13″ w (43 x 33 cm)
033-304 Absorbent Paper, Roll, 300 ft, 2/case
033-013 Absorbent Paper, Sheets, 50/pkg
Related:
046-275 Dispenser, Absorbent Paper Roll, Wall mounted.