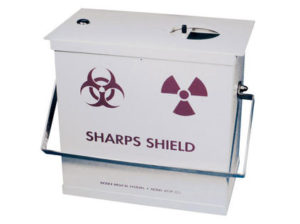 For Beta and Gamma Radiation
This Sharps Container Shield is a simple way to dispose of used syringes that may be contaminated with low-energy gamma and beta radiation residue. The shield is constructed of steel lined with .125″ (.32 cm) lead and .0625″ (1.6 cm) aluminum. The shielding combination attenuates gamma radiation, beta radiation and errant bremsstrahlung.
The shield features a top with sliding port and a swing hand for easy transport. It is designed to accommodate small and medium Monoject Sharps containers.
Shield Accommodates Small and Medium Monoject Sharps Containers
Dimensions:
7.5″ l x 11.75″ w x 10″ h (19 x 30 x 25 cm)
I.D.: 7″ l x 11.25″ w x 9.5″ h (18 x 29 x 24 cm)
Lead Shielding: .125″ thick (.32 cm)
Aluminum Shielding: .0625″ thick (1.6 mm)
Security: Key-locked
Finish: Powder coat
Weight: 48 lb (22 kg)
039-330 Sharps Container Shield, Beta/Gamma
For Monoject Containers 039-338 and 039-387
Related:
039-338 Sharps Container, Monoject, 4 qt., 10/pkg
Fits 039-325, 039-326, 039-350 and 039-330
039-388 Sharps Container, Monoject, 8 qt., 20/pkg
Fits 039-325, 039-326 and 039-330