Clear-Lead Nuclear Medicine Barrier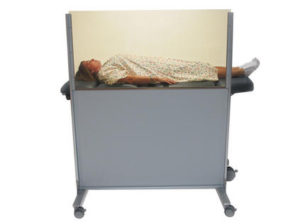 Ideal for use during nuclear medicine procedures, the Clear-Lead™ Mobile Radiation Barrier provides complete protection against patient-emitted radiation. Safe, durable and shatter resistant, the Clear-Lead™ window is a transparent acrylic plastic containing 30% lead by weight.
With its grab-handle edges and large casters, the Clear-Lead™ mobile barrier is effortless to maneuver, offering protection wherever it's needed.
1.0 mm lead equivalent protection
Features 23.5″ x 46.5″ Clear-Lead™ viewing area
Lightweight, with hand-shaped edges for easy maneuvering and cleaning.
Dimensions:
– Overall Dimensions: 49.5″ w x 61.1″ h (126 x 155 cm)
– Window: 48″ w x 23.5″ h (121 x 60 cm)
– Opaque Panel: 48″ w x 32.5″ h (122 x 82.5 cm)
– Shielded Area: 48″ w x 56″ h (122 x 142 cm)
Window: 1.0 mm lead equivalency
Opaque Panel: 1.1 mm lead
Leg Depth: 10.5″ (26.7 cm)
Casters: Four hospital grade, locking
Weight: 161 lb (73.2 kg)
Warranty: One year parts and labor
042-585 Barrier, Mobile, Clear-Lead, Wide Window
For patient-emitting radiation, 1.0 mm LE
Window size 23.5″ h x 46.5″ w (60 x 118 cm)