Shielded Waste Container Low-Energy Beta and Gamma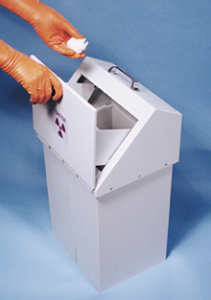 For Low-Energy Beta and Gamma Waste
This Shielded Waste Container is used in facilities that generate low-energy beta and gamma radiation waste.
The interior of the container is constructed of .063″ aluminum (1.6 mm) and .25″ lead (6 mm). The shielding combination attenuates gamma radiation, beta radiation and errant bremsstrahlung.
Extra protection is provided with a specially designed hatch door that protects the user from container contents even while open. Convenient side handles let you easily lift the container top to empty decayed contents. Sleek and sturdy, the exterior is constructed of steel, with a powder-coat finish.
Dimensions: 12″ w x 22″ h x 9″ d (30 x 56 x 23 cm)
– I.D.: 10.5″ w x 14.5″ h x 8.5″ d (27 x 37 x 22 cm)
Lead Shielding: .25″ thick (6 mm)
Aluminum Shielding: .063″ (1.6 mm)
Finish: Powder coat
Shipping Weight: 120 lb (54 kg)
039-110 Waste Container, Shielded, .25″ lead
Replacement:
040-108 Liner, Poly, 20/pkg.