RadLite™ Cobalt-57 Flood Sources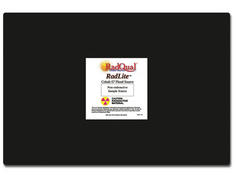 The RadLite™ Cobalt-57 Flood Source features a new, slimmer design and weighs 60% less than previous models. Cobalt-57 flood sources are used to test the response uniformity of gamma cameras to ensure camera response is consistent over the total head area(s). Cobalt-57 is uniformly dispersed in an epoxy matrix fully sealed in a high integrity ABS encapsulation. Radionuclide purity is greater than 99.9% (combined Co-56/Co-58 is less than 0.08% at source reference date).
RadLite™ flood sources are supplied with a uniformity test statement, wipe test certificate, handling and storage information and a custom decay calendar. The sources are shipped with the patented RadShield, providing comparable shielding to traditional hard cases at half the weight.
Lightweight, slim design
Dual head quality control acquisition
Expiration life up to 24 months
Cobalt-57 Flood Sources are manufactured and 100% tested to have a coefficient variation of less than ±1.0% and integral non-uniformity of less than ±2.5%. SPECT imaging procedures require less than ±1%coefficient of variation.
Flood Sources are shipped with the patented radshield.
Rectangular Flood Sources
Dimensions: 24.1″ l x 16.7″ w x .3″ thick (61.2 x 42.4 x .76 cm)
Active Dimensions: 23.9″ l x 16.5 " w (61 x 42)
Cardiac Rectangular Flood Source
Dimensions: 15.6″ l x 9.5″ w x .3″ thick (40.1 x 24.1 x .76 cm)
Active Dimensions: 15.5″ l x 9.25 " w (39.4 x 23.5 cm)
043-840 Flood Source, Rectangular, 10 mCi
043-855 Flood Source, Rectangular, 15 mCi
043-845 Flood Source, Rectangular, 20 mCi
043-860 Flood Source, Cardiac, Rectangular, 10 mCi